In 2022, many companies provide cloud storage, and the most popular names in cloud storage providers are Google and Microsoft. In such a situation, a small company has given 1TB of free cloud storage to more than 10 million people, leaving behind big companies like Google and Microsoft.
Actually, a company called Terabox is providing 1024GB i.e. 1TB free cloud storage to all the users. More than 10 million people have downloaded this app in the Google Play Store, as well as Terabox 's app is available for iOS and Windows. And many users of these operating systems are also using Terabox.
There is no right answer to how this company is providing so much cloud storage for free. But this company is giving very good competition to big cloud storage providers like Google Cloud Storage and Microsoft One Drive. It's not that Terabox 's cloud storage is just a sham. Many people have also given good feedback about this cloud storage.
People Are Satisfied Using This Cloud Storage
A lot of people are satisfied using Terabox's free 1024 GB cloud storage. A user named Nikesh has even used up 1TB of storage and is now thinking of buying the premium plan of Terabox.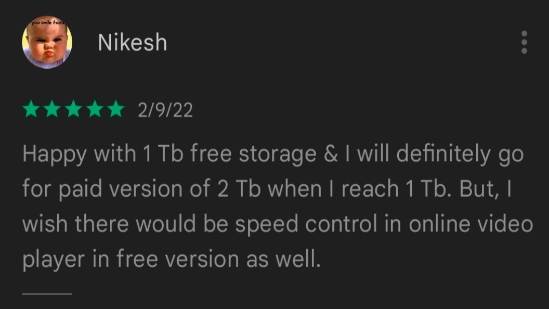 This shows that the user is very satisfied with the cloud storage service of Terabox. Apart from this, users using other cloud storage should also check this service once and take the experience of it.
Because if something is giving such a good service for free, then it should be used. Google Cloud and Microsoft One Drive are very good and secure cloud storage services, but very little amount of free cloud storage is available in them.
However, it is much easier to use Google Cloud in Android and One Drive in Windows, and iCloud in iOS. Because the cloud storage of all these big companies is highly optimized for their devices.