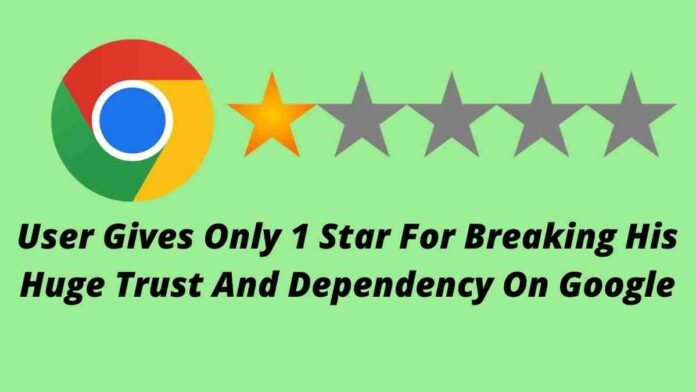 A few days ago, some users using the Chrome browser have shared their experience through reviews in Google Play Store. Some users have enjoyed using the Google Chrome browser and some users are finding it difficult to use the Chrome browser.
A Google Chrome user named Rakesh Alhan has told through a review in Playstore that the Chrome browser is giving a lot of problems in his Android smartphone. According to him, Google Chrome browser is the most promising browser, but still, due to some problems with the Chrome browser, he had to give a rating of 1 star.
Google Chrome browser has damaged Rakesh's system several times. After opening the browser, the user's system is getting frozen, and apart from the power button of the smartphone, none of the buttons, gestures, etc. are working. After pressing the power button, the browser opens, again and again, the same problem the user has to face.
For this reason Rakesh Alhan, this Google Chrome user has given a rating of 1 star to the Chrome browser in Google Playstore. Due to this user's review, Google may fix this problem, but at present, the user's problem may not have been solved.
Because if the user's problem was solved, then the user would definitely change his review and tell the people about the problem being fixed. Google keeps optimizing its services and apps well so that the user gets a good experience.
Apart from this, along with Rakesh, how many other users are having this problem, it cannot be guessed. If only one user is having this problem, then this problem can also be due to the user's smartphone.
Will Google Fix The User's Problem?
If Google found this problem right and they found any problem in the browser, then Google can fix it in the upcoming update, but if the problem is in the user's smartphone then Google cannot fix it. App crash in Android is a common problem, but still, this problem is not much in premium and good specification, and well-optimized Android smartphones.
Also, Google Chrome browser and other apps in Android smartphones with stock Android and Google Pixel do not freeze much. Because stock Android is highly optimized. That is why the smartphone which has stock Android should be bought only.