After the recent update of Google Chrome, many users are facing a lot of problems. Users are seeing a difference in the speed of the browser after the new update. Apart from this, users are facing problems while browsing and using different websites in Google Chrome.
Users have told their problems through the review section of Google Play Store. A user named Rateesh Raj has told that he has used only the Google Chrome browser in his entire life. But due to the recent updates, they may have to shift to a browser other than Chrome. Because after the update they are getting poor performance from the browser.
At the same time, he has also spoken well about the browser and has also said thanks to Google for providing such a service. Apart from this, he is hoping from the developer of Google that the Google Chrome browser should be back as well as before.
How Many Users Are Having Trouble With The Update Of Google Chrome?
We have not got any exact number of how many users are having trouble with the update of Google Chrome, because the user base of Google Chrome browser is very large. Users are sharing their problems in the review section of Google Play Store, on social media platforms, on YouTube videos, etc. But its exact number cannot be said yet.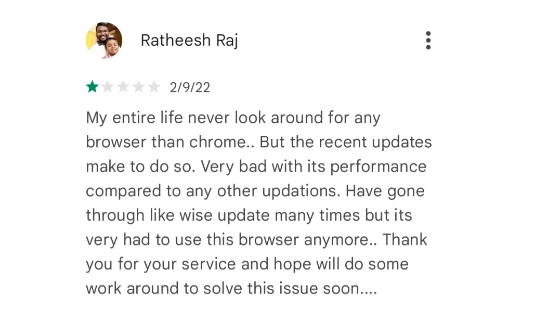 Apart from this, a user has told on Twitter that if you want to make your private data secure, then you should not use the Google Chrome browser. According to the user, apart from Google Chrome, many other secure browsers should be used by people.
A user named Krushna Patil has said that he has to give a zero star rating to Google Chrome. Patil says that Google Chrome is getting bad after every new update, Patil is having problems with the news feed of Google Chrome, Patil is seeing Vulgar news in the news feed of Google Chrome.
Patil does not want to see that news, that's why Patil wants to delete or remove that news but he is not able to. But before the update of Google Chrome, he was able to block and delete any news and website.