Degoo Cloud is a very popular cloud storage provider. Degoo Cloud allows users to use 100 GB of cloud storage for free. Degoo Cloud also has premium plans, by purchasing a subscription, you can use more cloud storage.
But many users are complaining a lot about Degoo Cloud because they are facing a lot of trouble in using Degoo Cloud. Apart from this, a lot of data has been deleted by Degoo Cloud from a free Degoo Cloud account of Shahnawaz Hussain, the owner of this blog.
Why is Degoo Cloud deleting data?
In the free account of Degoo Cloud, you are given 100 GB of free cloud storage, if the free account of Degoo Cloud is not used for 90 days, then all the data is deleted due to your inactivity from Degoo Cloud.
But we got an email from Degoo Cloud about our account. It was told in the email that if we log in to the Degoo Cloud account within January 10, 2022, then we will get our data in Degoo Cloud. That's why we logged in to Degoo Cloud in December of 2021, but our data was already deleted from Degoo Cloud.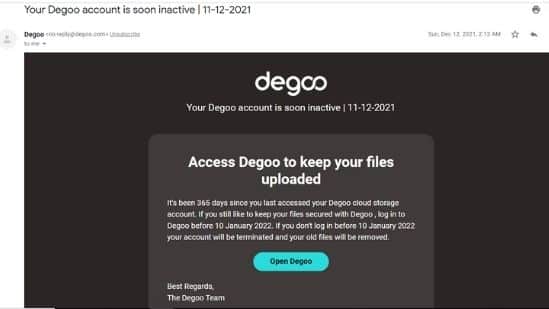 We didn't have any important files uploaded in Degoo Cloud, apart from this we don't even have much ideas how many GB of data was uploaded to our Degoo Cloud account. But we did not get our data back. There are many users whose data has been deleted from Degoo Cloud's account.
Is Degoo Cloud Not Right For Your Data?
Degoo Cloud can be a perfect option for your data if you are always able to be active in your account. If you are not active in Degoo Cloud, then your data may get deleted. Apart from this, you can also check user reviews of Degoo Cloud in the Google Play Store. Many users are happy with Degoo Cloud service, so many people are facing a lot of problems in using Degoo Cloud.
Degoo Cloud service is secure cloud storage. Your data gets complete security even in the free account of Degoo Cloud. But if you want to buy its subscription, then you can visit the official website of Degoo Cloud. Microsoft One Drive and Google Cloud can also be the right option for your data, that's why check them too.